Our Vision
We believe that training Capoeira greatly improves the lives of all who train it. Through participating in our community, our students not only improve their own lives, but help to improve the lives of those within our community. Every member of our group brings their own individual energy and skillset, making each person important to the growth of our community. We aim to hone each student's strengths through individual attention, and to challenge them to push past their current physical and mental limitations. Capoeira is more than working out and singing, though. Capoeira incorporates a rich culture from Brazil through movements, songs, and traditions that we honor and that promotes cultural awareness and unity. Capoeira's diversity allows everyone to come in with something they are interested in or good at while also giving everyone many things to work on. Our goal is to ignite passion in our students so that they become enthusiastic about taking responsibility for their own learning. In doing so, students can take their own learning to the next level, whether that be through acrobatics, kicks, music, culture, or becoming a leader for others.
Our Instructors
Graduado Guerreiro

Head Team Instructor
Guerreiro began training martial arts in 1996 then began training Brazilian Capoeira in early 2001 with CapuraGinga  under the instruction of Rosa and Cravo. A few short years later, Rosa and Cravo moved out of state and Guerreiro (only a teenager) was left to train mostly in isolation. As he got older he traveled as a dancer/choreographer and a musician, often teaching capoeira to his backup dancers as a way to stay sharp on his skills. He took capoeira workshops from respected Brazilian Capoeira teachers and Masters around the USA. In 2013, Guerreiro began training with a former CapuraGinga classmate and long time friend, Instrutor Pulo, who ran Nova Luta Capoeira. In 2015 Guerreiro was advanced in rank in San Antonio, TX CapuraGinga  (his first advancement in over a decade) by Mestrando Advogado , who would soon after become his mentor.  Later that year Guerreiro was allowed to begin instructing the Minnesota CapuraGinga group. In 2016 Guerreiro was promoted to the rank of Graduado (Graduate) by way of Mestrando Advogado, Mestrando Furacão, Mestrando Mago, Mestre Loka, and Grão Mestre Dunga. Today, Guerreiro teaches capoeira througout the twin cities, St Paul and Minneapolis, and surrounding cities including Eagan, West St Paul, East St Paul, Woodbury, Maplewood, Apple Valley, Burnsville, Oakdale, Forest Lake, Inver Grove Heights, Roseville, Shakopee, Mendota Heights, Edina, and Eden Prairie.
Arco-íris
Head Children's Instructor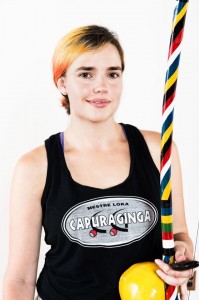 Arco-íris began training capoeira in 2012 with CapuraGinga under the instruction of Mestrando Mago in Colorado Springs, CO, while attending college. After graduating, she spent a year in Fort Collins (her home town) while applying to graduate programs, and trained with Mestre Lucas of Capoeira Canavial. In fall of 2015, Arco-íris moved to Minneapolis to attend the University of Minnesota as a psychology graduate student, and rejoined her CapuraGinga family. In the summer of 2016, Arco-íris competed in the International Capoeira Federation (ICAPF) tournament where she placed 3rd in solo competition and 3rd in the 6-9 years of experience tournament.
---
OTHER ASSOCIATED ACADEMIES
Colorado Springs, CO
(Mestrando Mago and Professora Segura em Casa)
South Jordan, UT
(Mestrando Furacão)
San Antonio, TX
(Mestrando Advogado)
Orem, UT
(Monitor Espeto)
Washington, DC
(Monitor Bugalu)
Dallas, TX
(Monitor Sombra)
Denver, CO
(Monitor Sucão)
Corpus Christi, TX
(Monitor O'Rei)